How to Sell my Private Property
How to Sell my Private Property
How to Sell my Private Property
1st Step – Check Your Eligibility
Do take note to holding period for the property for 3 years to avoid paying Seller's Stamp Duty (SSD).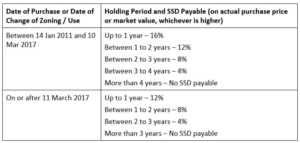 2nd Step: Check Mortgage Lock-in Period & Penalty (if any)
Check with your Bank if there is any lock-in period for your mortgage and any penalty (lock-in penalty, undisbursed loan penalty, purchase legal fee clawback) for your loan redemption.
3rd Step: List Your Property with PGproperty
Post your property for sale at PGproperty & start your selling journey with us.
Some Tips to assist you before posting your property for sale. Before you create your own listing to post, take some time to read through. Doing It Yourself (DIY) helps you to save on commissions and DIY has never been easier.
Home Staging
Many owners fear hassles, thinking home staging is a difficult task. However, they do not know that home staging has always makes it easier for buyers to visualize a property as their future home. Home owners who took the efforts to do so sell faster than homeowners that don't. So what is home staging?
Home staging is designed to showcase your home's best assets, impress buyers, and sell it quickly for the highest possible price. Not all sellers take the time and effort to stage their homes therefore you'll be at an advantage if you could take the extra step of staging your own property.
Most homeowners thought that they need to spend a lot money on that. Contrary, you do not need to spend a single cent if you are willing to make these efforts and follow these few pointers recommended.
Clean up the house
Everyone likes to enter a clean home. A clean home shows potential buyers that you've taken good care of the property. Recall and visualize how show flats are staged to create the emotions so comfortable to the extent of making then wanting to own a unit and make buyers commit readily. .
Declutter
Decluttering is one of the most important steps to staging a home for sale. Decluttering your home will make it seem larger and more appealing to home buyers. It is a simple step yet create a major impact on how your house shows. Knowing how to effectively and efficiently declutter your home means you ready to host your open house like a show flat.
Beautify
Houses that are too run down may need a fresh coat of paint in order to create a fresh looking property to make buyers feel welcome with great vibes. If you are willing to repaint the whole house to create a brand new aura like most people does for selling second hand cars, chances are offer prices will fetch higher and get sold faster. The lower cost as compared to hiring workers to paint is to opt for DIY. If you are lazy to do up the whole unit, focus on areas that need to touch up most.
A plus point to beautify a house and makes one call home is to add a few potted plants that cost merely a few dollars is to the bathrooms and some living hall spaces. You can also roll up some new towels on your own neatly like some 5 stars hotel does and place them on toilet bowl with cover lid down. You get to hide any unpleasant smell or stains too.
A Picture Tells a Thousand Words
The DIY journey to sell on your own has allowed savings on thousands of commissions without the services of a property agent. So the next step is take a few great shots of your home to create a great impression after home staging to attract potential buyers because pictures are what make potential buyers to come to view your property.
Do take note when taking a photograph of your beautiful home, it is advisable to remove all personal items such as family pictures, sports memorabilia or religious items so as to allow buyers to visualize and feel for themselves the space that they can eventually call their home.
So start taking beautiful pictures of your home and capture the hearts of your potential buyers now.
4th Step –Expecting Calls & Conduct Viewings
Start expecting potential buyers to call and arrange for viewings.
On the day of the viewing of your home, do a quick tidy up and switch on the air-conditioning (if any) for a better presentation of your home.
Recall how developers show cases their show flat units. Most of the times, it makes one feel so good when stepping into a show flat and create an instant adrenalin rush to own or buy the property. With that, objective is to create the same feel for your potential buyers when stepping into your unit and have that impact too.
Slowly guide the buyers around your home and share with them what amenities the estate enjoys. Remember to share only what the potential buyers requires. As the saying goes, sometimes less is more. Good luck!
5th Step – Review Offers & Negotiate
Before negotiation with the potential buyer, do your homework on what are the transacted price of surrounding properties using SRX x-value pricing or URA to assist you in making an informed decision on what price to sell.
6th Step – Grant Option To Purchase (OTP)
Sign the OTP and send it over to the buyer (or buyer's lawyer). In exchange,  they'll give you 1% of the purchase price as the Option Fee.
The buyer now has 14 calendar days to decide whether they want to continue with the sale while you as the seller cannot grant the Option to another party before it expires.
If the buyers wish to proceed with the purchase of your property, they have to exercise the Option within the Option Period at their law firm. To exercise the Option, the buyers must sign on the "ACCEPTANCE" section in the OTP.
When the buyers exercise the OTP at their law firm, they will pay 4% of Sale Price Option Exercise Fee to your law firm to be held by your lawyer as stakeholders pending completion. The 1% Option Fee and 4% Option Exercise Fee will form the 55% deposit.
If the buyer backs out, you get to keep the 1% Option Fee.
Last Step – Completion
Once you've completed the final payment and your home loan has been disbursed, it's time for the moment you've been waiting for – collecting the keys to your new home.
The completion date will be approximately 8-12 weeks (depending on your agreement with the seller from the date you exercised the Option). Your lawyer will inform you to collect the keys on this date.